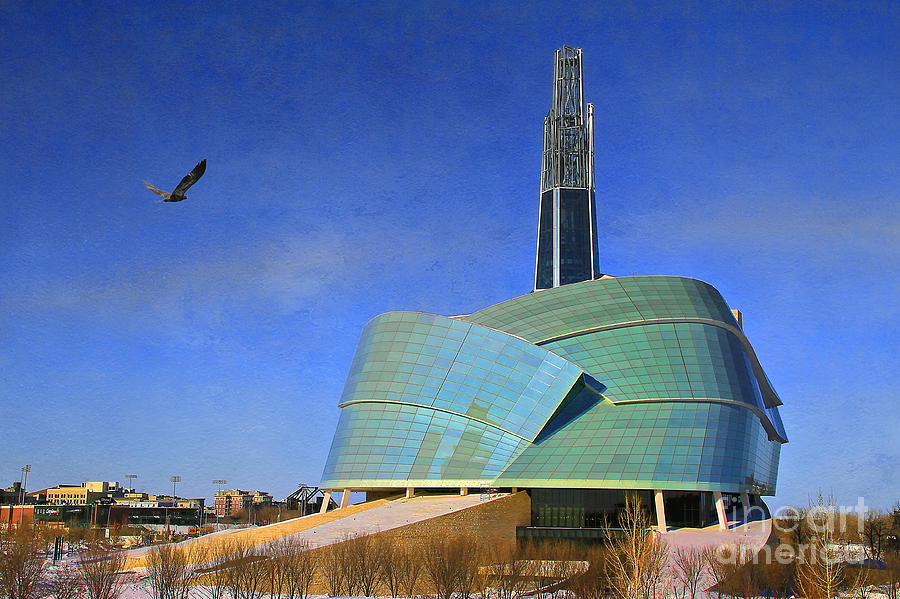 Title
Canadian Museum For Human Rights
Medium
Photograph - Photography
Description
The Canadian Museum for Human Rights (CMHR) is a national museum in Winnipeg, Manitoba, located adjacent to The Forks. The purpose of the museum is to "explore the subject of human rights with a special but not exclusive reference to Canada, in order to enhance the public's understanding of human rights, to promote respect for others and to encourage reflection and dialogue." It held its opening ceremonies on 19 September 2014.

Established in 2008 through the enactment of Bill C-42, an amendment of the Canadian Museums Act, the Canadian Museum for Human Rights is the first new national museum created in Canada since 1967, and it is the first new national museum ever to be located outside the National Capital Region.
In 2003, the Friends of the Canadian Museum for Human Rights launched an international architectural competition for the design of the CMHR. 100 submissions from 21 countries worldwide were submitted. The judging panel chose the design submitted by Antoine Predock, an architect from Albuquerque, New Mexico.
Antoine Predock's inspiration for the CMHR came from the natural scenery and open spaces in Canada, including trees, ice, northern lights, First Nations peoples in Canada, and the rootedness of human rights action. He describes the CMHR in the following way:
"The Canadian Museum for Human Rights is rooted in humanity, making visible in the architecture the fundamental commonality of humankind-a symbolic apparition of ice, clouds and stone set in a field of sweet grass. Carved into the earth and dissolving into the sky on the Winnipeg horizon, the abstract ephemeral wings of a white dove embrace a mythic stone mountain of 450 million year old Tyndall limestone in the creation of a unifying and timeless landmark for all nations and cultures of the world."
On 3 July 2010, Elizabeth II, Queen of Canada, unveiled the building's cornerstone. The stone bears the Queen's royal cypher and has embedded in it a piece of stone from the ruins of St. Mary's Priory, at Runnymede, England, where it is believed the Magna Carta was approved in 1215 by King John.
Uploaded
November 10th, 2015
Statistics
Viewed 611 Times - Last Visitor from Cupertino, CA on 01/15/2020 at 10:42 AM